Every once in awhile you need to head out of your neck of the woods and explore someplace new for a good restaurant. Not that I'm so privileged or such an experienced foodie that I've eaten at every restaurant in my neighborhood; gosh, it seems likes there are five new ones opening up every week, I'll probably never try them all. But despite all the new flavors and environments that my area provides, sometimes you just want to explore. And since I happen to have a friend who lives in the far off exotic land of Astoria, I've been able to do a bit of exploring in the bizarre borough known as Queens.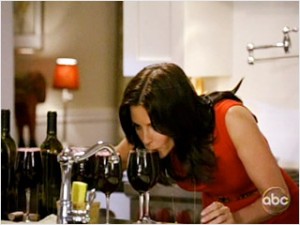 And how appropriate that my first restaurant experience in Astoria would be to a restaurant that dishes out New Orleans specialties like po'boys, blackened catfish and red beans and rice? 'Tis the season being that it is Fat Tuesday and all. The sweet little restaurant is called
Sugar Freak
, what I originally thought may have been a reference to the Sugar Bowl that takes place in New Orleans every year. Turns out the cozy restaurant with homey decor and vintage furniture was originally slated to be solely a bakery and not a full restaurant but ideas changed, menus evolved, and the name just stuck. It's kind of the eatery version of
Cougar Town
. Hmmm maybe they're exactly the same... the amount of wine they drink on
Cougar Town
is kind of equivalent to the amount of booze drunk on Bourbon Street, right?
Speaking of booze, the fully stocked bar serves up a collection of cocktails inspired by the famously intoxicated city - Hurricanes, Swamp Juice, Sugar Honey Iced Tea, and the official whiskey cocktail of New Orleans, the Sazerac. Since I'm a classic whiskey cocktail kind of gal this Cajun take on a Manhattan was right up my alley. Made up with a deliciously deadly combination of cognac, rye whiskey, absinthe and bitters, I could definitely see this becoming one of my new favorite beverages.
But it's important not to drink on an empty stomach. Fortunately, the menu has no shortage of tasty Louisiana homestyle options. It took me nearly twenty minutes to decide between the Crawfish Etouffee and the Jambalaya... first world problems, I know. I ended up making a buzzer kind of decision at the last minute and went with the Jambalaya, shrimp added of course. It was absolutely the right choice though I wouldn't say no to going back and trying every other item on the menu. A giant portion of perfectly cooked, sauced and seasoned rice with so much much flavor and just the right amount of spicy kick was served up steaming and overloaded with chicken, Andouille sausage and shrimp. I tried so hard to finish it all because it was so delicious but I just couldn't do it. Especially not when there was a side of amazingly seasoned collared greens jam packed with smokey ham hock to finish up, too. Oh yeah, and nibbles of my dinner partner's ginormous Po'Boy which held at least ten huge and juicy fried oysters crammed into French Bread delivered straight from New Orleans' own Gambino's.
I'm kind of upset with myself that I didn't leave room for dessert but I couldn't help but eat nearly the entire heaping serving of Jambalaya. Hopefully next time I'll prepare myself a little better and save some room for something sweet since sugary snacks are at the core of
Sugar Freak
. Mmmm next time. If you ever happen to find yourself up in Astoria, you should certainly check this place out. And if you're looking for a last minute Fat Tuesday celebration, I'm sure you'll find no shortage of revelry up there tonight... despite it's cozy atmosphere, I have a feeling these crazy Creoles know how to party. This gem of a spot is proof that if you're willing to explore a little bit outside of your normal realm, you might stumble upon something really good. Happy Mardi Gras, dear readers! And always remember to laissez le bon temps rouler!